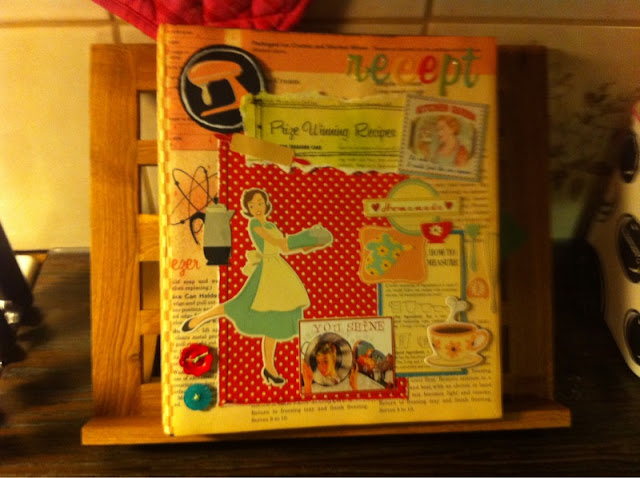 Efter att jag altrat min
receptpärm
så vågar jag inte längre ha den på en smutsig bänk - mitt i bakartagen... frågade då runt på
Svensk Scrapbookingsforum
om smart sätt att ha den på. Min kära scrapkompis
TurboMalin
kom med tips och länk på detta tjusiga kokbokstället från Cervera. Det va klockrent och sen dess har jag velat ha det!
Mamma va i Jönköping idag så hon köpte det åt mig ♥ jag fick oxå en liten alla hjärtansdag present från henne, gullemamma! En kylskåpsmagnet med en text som gör än både glad och rörd på samma gång!
Så här ser den ut:
I showed you before the altered recipe folder, since I don't dare to use it directly on the (sticky) kitchen sink when I'm cooking or baking, I asked around on the "Svensk Scrapbooking" forum. My dear scrap friend TurboMalin came with a great idea and a link where to buy it, since then I wanted it!
My mother was in town today so I asked her to buy it for me. I also got a valentines day gift from her, my sweet mom! A fridge magnet with a text that maked me both glad and moved at the same time!
This is what it looked like: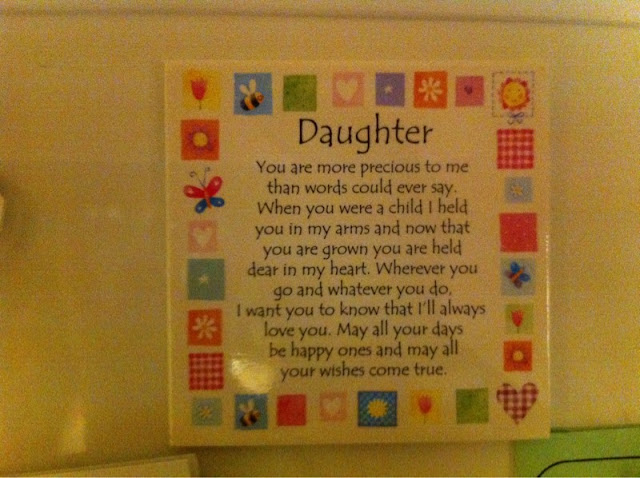 Ursäkta den dåliga bildkvalitén men jag tog fotona i mörker med mobilen...
Som om det inte vore nog så när jag kom hem stod där rosa rosor på bordet från Andreas och Antonia, Antonia hade förstås valt färgen och ett sött kort underskrivet av de båda! ♥ Jag blev så glad så!
Sorry about the bad quality in the photos, I took them in the dark with my iPhone...
As if that wasn't enough, when I got home, Andreas and Antonia had baught me roses, pink roses (Antonia picked them out) and a sweet card signed from them both! ♥ I was so happy! :D
- Posted using BlogPress from my iPhone