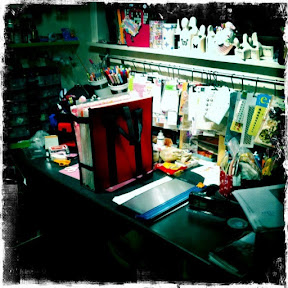 Jag blir galen på mig själv som har så svårt att packa varje gång det vankas träff... alltid lika svårt att veta vad man kan tänkas behöva och inte, jag tar ju så klart alltid med mig för mycket men så vet man ju inte vad som ska komma på de roliga utmaningarna. Det är oftast något jag lämnar hemma som jag saknar sen på plats... och om jag tar med för mycket blir det bara jobbigt att rota i det så ja - det är ett dilemma! :)
Sen kommer det ju finnas massor av roliga butiker på plats så hade man varit gjord av pengar hade man ju inte behövt ha med något alls men nu är det ju tyvärr inte så - och nog känns det trist om man skulle behöva köpa något man vet att man har hemma... ja ja - bäst att fortsätta!
Behövde bara avreagera mig lite! ;)
I'm going crazy every time I pack for crops. This weekend I'm going by car (luckily) to a big crop event, but my two friends is going with me in my little car so I have to pack pretty light anyway... it's hard!!
Usually I bring to much with me, still I use to miss things I left at home... There is going to be a exhebition as well so if I was made of money I could buy everything, unfortunately I'm not... and it would be kind of dull to buy things I now I have at home but need to the challenges or project I'm doing...
Well, well, better continue... I just needed to spit it out! ;)
- Posted using BlogPress from my iPhone