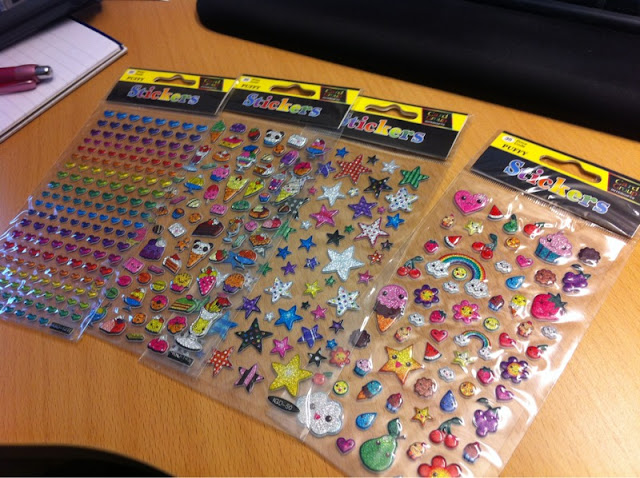 På lunchen handlade jag till det stora Glitterpartyt i helgen, inköpslistan va lååååång och shit va dyrt det blev med allt som skulle vara med men jag tror faktiskt att jag fick med allt på listan. Skönt att ha det gjort på lunchen så att jag bara kan åka hem och börja på med tårtbottnar och fyllningar...
Blev glatt överraskad när jag kom fram till kassan och så dessa supersöta puffy stickers - har letat efter sånna här roliga och söta figurer att använda när jag scrappar men har inte tidigare hittat vad jag sökt. Det roliga va oxå att de va syrafria - är inte så jättenoga med sånt längre men det är ju helt klart ett plus när det är det! :D Dyra va de dock men det är ju rätt många stickers på varje ark i alla fall. :D
On my lunch I went to the grocery store to buy all the things I need for the birthday party on Saturday. It was a loooong list and it was very expensive stuff I bought but at least I think I got everything on the list. It's a relief to have done it. So when I come home I will start to do the bottom of the cakes and the fillings.
I was really happy and surpriced when I got to the cashier and saw that they had super cute puffy stickers - I have looked for funny and cute stickers for my scrapbooking for a long time but havn't found it before. The good thing was also that they were acid free - I'm not that strict about that anymore but it's really a plus when it is acid free! :D
- Posted using BlogPress from my iPhone